Weddings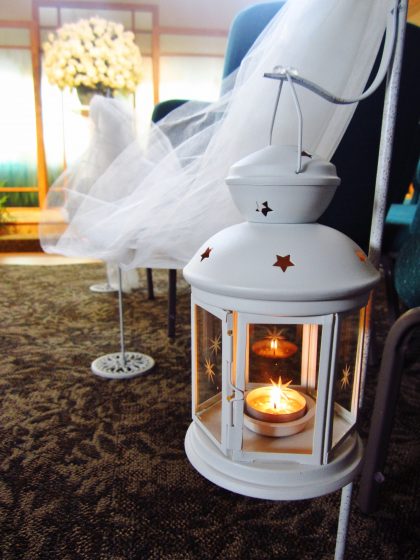 We are glad you are considering First Unitarian Church of South Bend for your wedding and/or reception! We are pleased to offer our space to all couples regardless of sexual orientation or gender identity.
Our church offers a beautiful sanctuary for your ceremony and an open gathering area in the foyer for a variety of events from casual cake and punch receptions to a formal catered dinner. Our minister, Rev. Chip Roush, typically conducts the wedding ceremonies. If you wish to have someone else officiate your ceremony, you must receive approval from Rev. Roush. Please let us know if you would like recommendations for a pianist or other musicians.
Building Information
Our building capacity is 155 people.
We offer a warming kitchen only.
We are a smoke-free facility. No smoking is permitted in or near the church building.
No rice or confetti may be thrown on the grounds or in the building. Bubbles are allowed outside only.
Decorations may be set up the night prior to the ceremony and must be removed the day of the ceremony.
You must seek board approval six weeks prior to the event if alcohol is to be served. Liquor liability insurance is required and this extra fee will be passed on to you.
After the board approves your request to serve alcohol, a $200 damage deposit will be required with your initial payment. Please write a separate check which the church will hold and return if no damage occurs.
On-site and street parking is available.
You may want to avoid Notre Dame home football game weekends due to parking congestion in the neighborhood.
Fees
Wedding only – $600: This includes your rehearsal, access to the sanctuary for setting up decorations, use of sanctuary, dressing rooms, and sound system during the ceremony.
Wedding and reception – $950: This includes your rehearsal, use of sanctuary, dressing rooms, and sound system during the ceremony. For the reception you will need to hire your own DJ or musician and provide your own sound system.
Non-refundable deposit: one half ($300 or $475) of the total fee serves as a non-refundable deposit and is due when your wedding date is approved by the minister and church office. Full payment is due one month prior to your wedding date.
Minister's fee: in consultation with the minister.
All checks should be made payable to First Unitarian Church of South Bend.
Preparation Checklist
Submit your wedding and rehearsal date to the church office for consideration and approval, ideally at least two months in advance of the wedding date.
Schedule an initial appointment with Rev. Chip Roush.
Make preliminary plans for the wedding service. Meet with our volunteer wedding coordinator to discuss and arrange building access and use.
Upon approval of the date, submit non-refundable deposit check to First Unitarian Church for $300 for wedding only or $475 for wedding and reception.
Obtain approval for alcohol to be served if desired, six weeks in advance. Be prepared to pay the required $200 damage deposit (refundable) and liquor liability insurance fee (non-refundable).
Send the balance of the fees one month in advance of the wedding rehearsal.
Deliver your marriage license to Rev. Chip Roush prior to the wedding day.
Hold your rehearsal.
Celebrate your special day with friends and family in our beautiful space!
For questions, please contact us.